We've come a long way since Irma Dunhill went door to door in the Empire
State Building gathering a list of names for her employer in 1939. Upon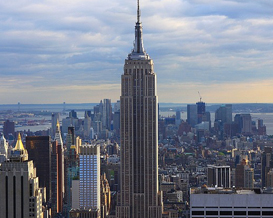 hearing of her work, a local businessman approached her, interested in purchasing the list of names she had compiled. Although she did not know it at the time, Irma Dunhill and her family would become pioneers in the mailing list industry and contribute to the growth of a vital business tool for entrepreneurs and businessmen for days to come.
Since our early beginnings three generations ago, our commitment to great service and quality lists has helped Hugo Dunhill Mailing Lists, Inc. grow into a well known mailing list and business information company. Today, HDML provides Business, Consumer, Medical, E-mail, and Specialty prospecting lists to both Fortune 500 companies and small businesses alike.
We pride ourselves in being the type of company that will go "the extra mile" for our clients whether it means building a custom list for a specific campaign or getting our team of programmers together to work on a complex database project.
Hugo Dunhill employees have dedicated over seventy five years to building and testing lists and bringing creativity and innovation to the mailing list industry. Moving forward, our goal is to continue to work with the same dedication, passion, and resourcefulness that brought our company to where it is today.
Our Commitment to Great Service
When recommending a list, we'll never try to "fit a square peg into a round hole." We compile hundreds of lists and offer solutions for virtually any campaign. We pride ourselves on offering an unbiased list recommendation and strive to provide our clients with the list best fit for each individual campaign. As a true list compiler and broker, we offer the expertise and options that will help you maximize your marketing dollars.
We believe in treating our clients like friends and work with the same dedication and attention to detail on every project. We ensure that our customers:
are offered alternative solutions
get orders in a day, counts within hours, and answers as soon as they are available.
get what they need without a hassle or a hard sell.
can contact us at any time.
are heard as they have valuable opinions that can help us improve our business.
are our priority. They are worth the time and effort it takes to keep them satisfied as clients.
Our Clients
We've built a solid base of loyal clients by providing quality prospecting lists & sales leads and guiding our clients to lists that get results. From Fortune 500 leaders to entrepreneurial start-up companies, our client portfolio includes leaders in every industry, including several well-known mailing list re-sellers & brokers.
Our Products & Services
Hugo Dunhill Mailing Lists, Inc. provides full service list and data processing services to both Business to Business and Consumer marketers. We specialize in offering the following lists and services:
Our Divisions
HDML currently operates under 2 divisions:
Hugo Dunhill Mailing Lists, Inc. (HDML)
HDML provides comprehensive sales leads and prospecting lists to B-to-B and Consumer marketers across various industries. HDML's compiled lists are available in a variety of delivery methods, including postal, fax, and e-mail. Hugo Dunhill serves business marketers, direct advertisers, and list resellers.
Dunhill Data Solutions (DDS)
Dunhill Data Solutions offers list hygiene, merge/purge, Business to Business and Consumer data appending, as well as NCOA, CASS Certification and custom list compilations. The DDS service bureau fulfills all requests at Supercounts.com, our online count and list fulfillment system. Supercounts.com houses all the data we compile and own, plus it has data from several other list sources for which we do list fulfillment.
Hugo Dunhill Mailing Lists
11211 John Galt Blvd
Omaha, NE 68137
Phone: 800.223.6454
Fax: 402.255.9099
Email: sales@HDML.com