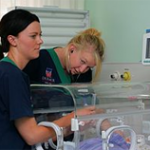 Hugo Dunhill's Nurses Mailing List now offers a file of 5,129,620 nurses. We believe this to be the largest database of its kind.
Nurses provide general nursing to patients in hospitals, nursing homes, infirmaries or similar health care facilities. They administer prescribed medications and treatments in accordance with approved nursing techniques. They also prepare equipment and aid physicians during treatments and examinations of patients. Nurses observe patients and record significant conditions and reactions to drugs, treatments and significant incidents. They also check for vital signs, rotate among various clinical services of institution, and prepare rooms, sterile equipment and supplies. They may make beds, bathe and feed patients or serve as leaders for a group of personnel rendering nursing care to a number of patients.
Reach these Nurses for offers on Seminars, Subscriptions, Books, Recruitment and any other health related offer.
The Nurses mailing list is NCOA'd quarterly. There are 3,115,441 records with license number available!
For More Information on the Nurses Mailing List: